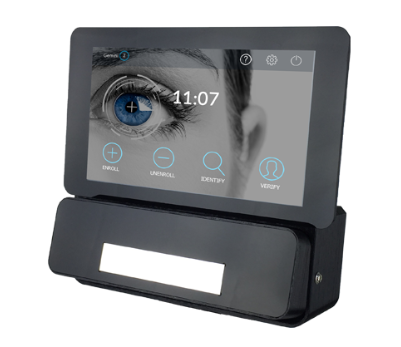 Description
GEMINI-CORE 1711LQ55 FEATURES
– Long capturing distance (35-55 cm)
– Side-gazing capturing capability (± 25 degrees off-axis)
– Secure on-board processing by industrial standard cryptography hardware from Freescale
– NIST-proven extremely accurate iris matching and iris quality assessment algorithms.
– On-board storage and matching up to 10,000 IDs (expandable up to 200,000 IDs)
– Seamless system integration through intuitive API.
– Supported image format: ISO Standard 19794-6, K1, K2, K3, K7.
– Supported communications: USB, Ethernet. Available upon request: Ethernet, RS-232/485, Wiegand.
– Supported OS's: Windows XP to Windows 10, Linux and Embedded Linux. 
SAMPLE HOST SYSTEM FEATURES
– Compact and popular Raspberry Pi design.
– Developing SDK and a standard sample application included.
Developers can base on this sample host to do tailoring to best ­fit their needs and use it as their ­final product. Or they can use the sample as a reference to design and develop their own host system. Developers can freely control and do whatever they want with this Raspberry PI without infringing IriTech technology.
Specifications
CPU

Cortex-A9, Quad-Core

Power

External powered (DC +5.0V, 3.0A)

Environmental

-20°C to +60°C (Storage); 0°C to +50°C (Operating); 10% to 90% Humidity (Non-Condensing)*

Capture Distance

35 cm ~ 55 cm (13.8 inches ~ 21.7 inches) from the front of the camera module (focal Depth:10cm)

Dimensions

Camera Board

52 mm x 34 mm x 32.9 mm

LED Board

38.4 mm x 33 mm x 16.2 mm

Main Board

70 mm x 52 mm x 10.5 mm

Certification

Eye safety certification and RoHS compliance.
SAMPLE HOST SYSTEM

Version

Raspberry pi Ver 3, Model B

LCD

7″ Touchscreen Display

Screen Resolution

800 x 480 pixels